Although a wide range of factors continues to influence the modern logistics supply chain, a number of components, machines, and systems that make up the holistic chain still lack optimal efficiency and environmental regulation compliance. As stakeholders explore alternative solutions, pallet manufacturers are turning to a sustainable process to convert wood waste, damaged logs, and even agriculture residues into molded wood pallets.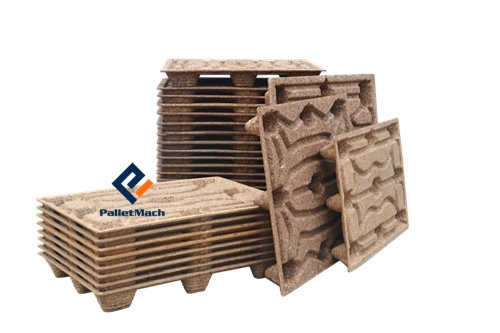 Their efforts have been complimented and encouraged by a cross-industry emphasis on recycling and sustainability. The pallet industry has been a stakeholder, and a collaborator, in the broader concerted efforts to streamline and strengthen product shipments. Over the years, a slew of developments, regulations, and challenges have impacted the industry uniquely.
According to the study, Molded Wood Pallets Market, global sales of molded wood pallets reached 435 million units in 2018, and are estimated to record a Y-o-Y growth of approximately 3% in 2019. Molded wood pallet manufacturers' capabilities have been put to test in recent times, as notable trends such as pallet pooling continue to flourish among end-users.
As wood waste takes up a considerable amount of landfill space, manufacturing molded wood pallets became an effective solution to waste utilization and a perfect fit for companies going green. In addition to weighing 35% lighter, molded wood pallets are nestable which helps optimize space and reduce the cost of retrieval by more than half when compared to conventional pallets.
Molded wood pallets are sanitized during the molding process and meet the most stringent phytosanitary regulations such as ISPM-15 for export. As food and pharmaceutical companies are diligent about using pallets free of contaminants, the study finds that capitalizing on these companies will work to the advantage of molded wood pallet manufacturers.
Fulfilling End Users' Quest for Sustainable Practices
The study finds that the molded wood pallets market is anticipated to grow at a volume CAGR of approximately 3% through 2029. One of the key growth drivers is manufacturers' efforts to use a significant amount of wood waste as raw materials that would otherwise end up in landfills. Further, the adoption of the environmentally responsible manufacturing process that consumes less energy, helps take a step closer towards sustainability goals for many industries. However, molded wood pallets are not reparable. Manufacturers are thus paying attention to potential methods to assist in avoiding landfills when the products have exceeded their useful life. But, pressed wood pallets are also recyclable and reused. Broken pallets are recyclable and reused and crushed pallets are raw materials for new pallets.
Although full-sized molded wood pallets continue to witness robust sales with approximately 60% revenue share in the market, manufacturers are working on increasing the production of half-sized pallets that enhance efficiency and reduce costs for shippers of smaller loads. The study opines that small-scale companies will benefit from half-sized pallets, as the use of recycled full-sized pallets burdens them with more pallet space and weight than necessary. Moreover, half-sized, nestable molded wood pallets are likely to account for a relatively large share of the market players' bottom lines in the future.
According to the study, opportunities abound for market stakeholders in logistic & transportation sector, on account of increasing industrial activities along with the rapid proliferation of trade agreements among various countries. Recognizing the recent developments in manufacturing and construction industries, manufacturers are likely to explore newer opportunities, with 'sustainability' at the forefront of attracting attention. Aligning with evolving end-users' trends and upgrades in regulatory norms also remains an important focus area of the manufacturers.
Growth prospects of the molded wood pallets market, as identified by the study, are high in EU5. The higher concentration of players in the region and their efforts to push sales and distribution through online channels are emerging as a strategic move. Further, the Asia Pacific, particularly the eastern region, is expected to represent higher incremental opportunities, backed by hefty investments in industrial sectors in recent years, which has primarily influenced the adoption of pallets.
The report further offers a comprehensive analysis of the competitive landscape in the molded wood pallets market. Although the market shows a high level of consolidation with a handful of key players accounting for prominent shares, there are fewer manufacturers as compared to the conventional pallet providers. Sensing a wide window of opportunity for new entrants, key players are inclining towards diversifying their product portfolio and leveraging opportunities in the untapped markets.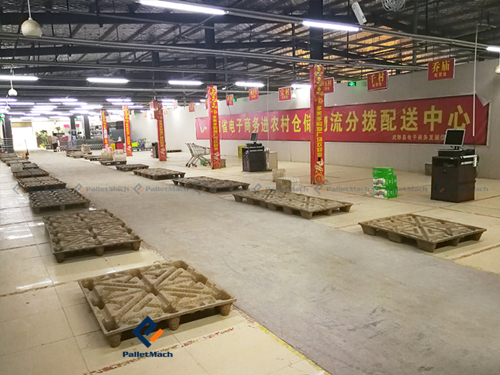 Pressed Wood Pallets – Preference for Sustainable Drives Demand
Subsequently, engineered molded wood pallets have garnered significant traction as a viable alternative to conventional pallets in terms of weight, cost-effectiveness, compactness, and sustainability. In addition to taking up one-third of the space of wooden pallets, molded wood pallets are compliant with ISPM-15 and do not require extensive heat treatments, thereby paving the way for increased adoption in international trade activities.
The Characteristics of Molded Wood Pallets
Space Saving
The same size of pressed wood pallets is nestable. And, they can be easily separated from a stack with a forklift truck. Nesting pallets reduces storage space by up to 70% than conventional wooden pallets.
For example, the height of 20 pieces of molded nestable wood pallets is about 0.75 meters. However, the height of 20 pieces of traditional wooden pallets is 2.7 meters.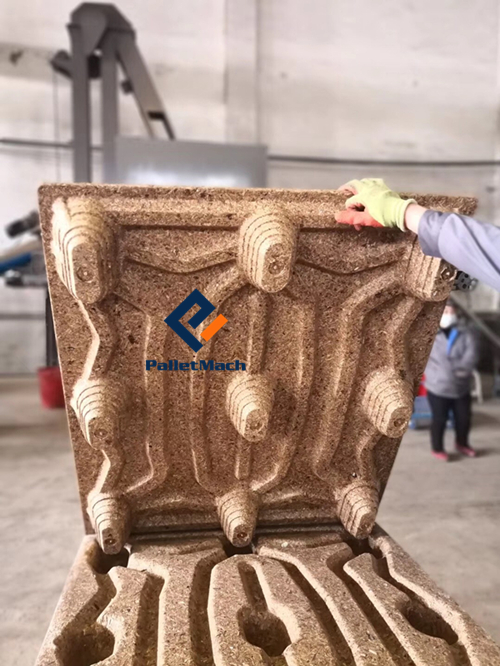 Lighter Weight
The compressed wood pallet is 60% lighter than a conventional wooden pallet, but, the same load capacity.
Excellent Design
Round edges design of pressed wood pallet is suitable for cargo safety, and perfect reinforcing rib to enhance loading ability. Accurate size with one time pressed, no bending.
Wooden pallet is designed by wood batten, which was easy to bend.
Safe
The pressed wood pallet is a one-piece design. There are no nails or staples to reduce product and package damage. And eliminating burrs help reduce employee and customer injuries.
On the contrary, nails and burrs of the wooden pallets will hurt the goods and the workers. And warping and shrinking maybe occur all the time.
Environmentally Friendly
Pressed wood pallets are a resource-friendly, wood-based recycling product, made from recycled waste wood from sawmills and industry. Raw materials of pressed wood pallets are wood wastes, damaged logs, even sunflower seed hulls.
In contrast, raw materials of the wooden pallets are almost logs, which are non-renewable resources.
Ready for Export
Pressed wood pallets are acceptable for export all over the world. The high temperature and pressure manufacturing process makes the pallets free fumigation and burns out all insect and larval infestations. So molded wood pallets can reduce the cost of customs clearance.
While, it is necessary that hot treatment of wooden pallets for overseas, which will increase the time and procedure of customs clearance.
Quality Assurance
Low 6-8% moisture content of molded wood pallet reduces the risk of product damage. And resin bonded construction provides high water resistance.
The other, wooden pallet is very difficult to clean and if they become wet can lead to the growth of bacteria and fungus.
Recyclable and Renewable
Old pallets which are no longer usable can be shredded and re-glued to make new molded wood pallet. And the waste wooden pallets are only as of the raw materials of molded wood pallets.
PalletMach Helps to Build More Molded Wood Pallets
PalletMach is the leading manufacturer of molded wood pallet machines with more than 10 years' production experience. And the following shows the advantages of PalletMach molded wood pallet machine.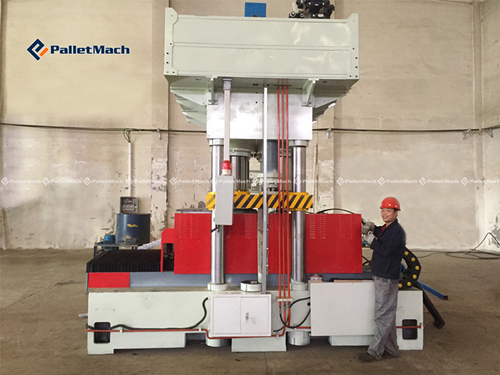 High Degree of Automation
Molded wood pallet machine adopts mechanical, pneumatic and electrical integration. And each action program controlled by the PLC system. And it has a simple and convenient touch-screen operation.
Low Production Cost
Molded wood pallet machine from PalletMach engages simple process flow and high efficiency. In addition, the raw materials for molded wood pallets are easy to get, which low the production cost. A lot of raw materials can be produced into the pressed wood pallets. They are anything contains wood fiber, such as wood chips, logs, timbers, wood shavings, waste wood, waste pallets, straw, and so on. The raw material price is lower than the traditional pallet machine.
Environmental Protection
Molded wood pallet machine is the ideal equipment for wood recycling. Our machine can change the waste into treasure, which processes the waste raw material into the green molded wood pallet.
For more information, please send an email to us inquiry@palletmach.com.