Automatic pallet legs nailing machine nails together wooden or composite pallet blocks with legboards (also known as bottom deck boards). They are equipped with PalletMach hydraulic nailing tools and pneumatic nail boxes. This nailing system has many benefits when it comes to the production of quality legs and these are some of the features that we consider important for efficient and sustainable production of quality wooden pallets.
Each individual hydraulic nail tool handles large variations in material dimensions while maintaining each nails depth in relation to the material surface.
The possibility to use and easily fill up with standard bulk nails in the nail box.
Detection of that the nails have arrived in each nail tool with auto-repeat picking if not.
Easy and flexible configuration in the control panel with the possibility to save the settings for each leg type in the pallet nailing machine.
PalletMach leg machines are available in right- as well as left-versions in order to match different layout solutions. Due to their modular design, they can be used as separate devices or together with suitable conveyors. They can also work as devices in a pallet production line and always with an appropriate level of automation for your needs.
We have two main types of standard leg machines. PalletMach designed with one board magazine and a pneumatic feeding system for simultaneous positioning of the blocks and legboards in nailing position. Automatic pallet legs nailing machine that is more advanced and equipped with two board magazines and two separate hydraulic drive systems for individual positioning of the blocks versus legboards in nailing position. Both machine types are fed with blocks via belt conveyors.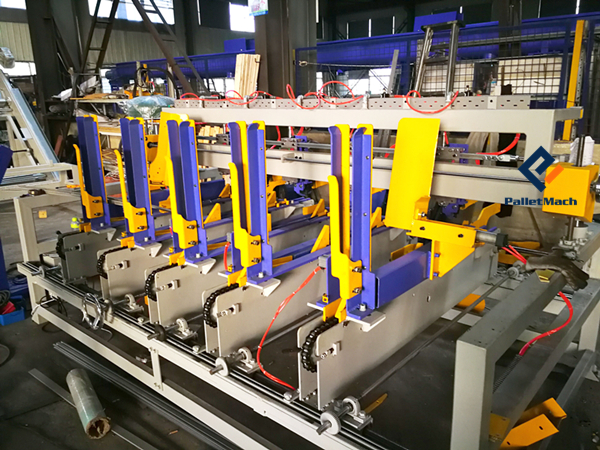 All PalletMach machines are based on the 1500-series which means that they generally can produce wooden pallets or pallet legs etc, with a width of roughly 1500 mm (60 inches). For several of our machine types, there are optional widths available in the 2000-, 2800-, and 3000-series. Please contact us for more detailed information about our different series.
The operating system of pallet legs nailing machine adopts imported PLC control, touch screen operation and convenient control. And legs nailer can be customized according to customer requirements, the regular size is below 1300 mm. The nail gun brand can be specified, the number of nails can be flexibly adjusted, and the nailing position is neat and beautiful. The nail plate is enlarged, and each coil nail is 2000 pieces, which reduces the number of nail changes.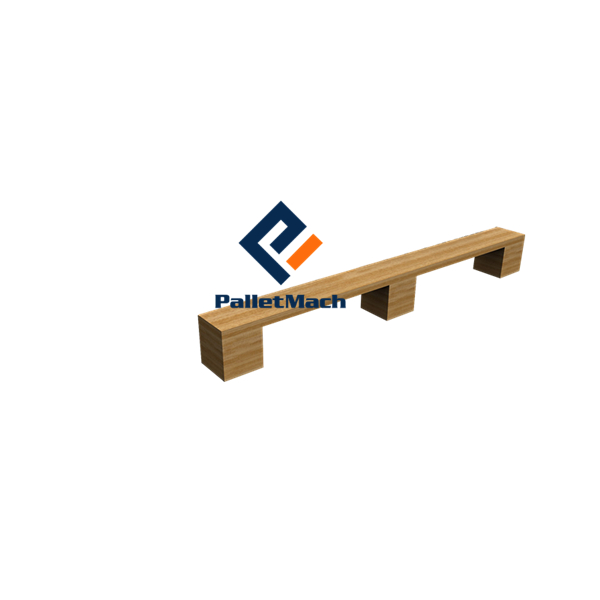 Parameters of Automatic Pallet Legs Nailing Machine
| | |
| --- | --- |
| Model | PM-1300LD |
| Working flow | Manual feeding-Auto nailing |
| Operating mode | Touch screen control |
| Motor power | 0.75 kW servo Siemens motor |
| Weight | 1,100 kg |
| Speed | 4-6 sec /leg |
| Production efficiency | 720 legs/h |
| Voltage | 380 V, 3-phrase, 50 Hz |
| Bottom size | Adjustable |
More information, please email us inquiry@palletmach.com.