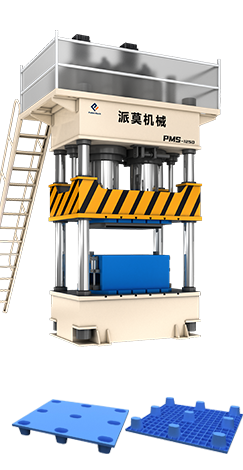 Plastic pallet making machine is the new type pallet making machine which manufacturing compressed plastic pallet, with advantages of high precision, high durability, high automation, and better molds design.
---
Power: 18.5 kW
Capacity: 500-720 pieces/24 hours
Dimension: 2000*1400*3500 mm
Weight: 22 tons
Warranty: 1 year
---
inquiry@palletmach.com +86-21-80392223 palletmach
Plastic pallet making machine overview
1. Plastic pallet machine is a new type of one time forming machine, and is also called plastic pallet machine and plastic pallet moulding machine.
2. Raw materials suitable for plastic pallet machine can be waste plastic, plastic bottle, plastic pellet, and plastic material and so on.
3. Compressed plastic pallet making machine is the perfect equipment for plastic recycling.
Plastic pallet machine advantages
High precision.
Plastic pallet machine adopts three-beam four-column structure. The four column guide device assures the precision of closing moulds and the stability of pressing during the working of press machine.
High durability.
The raw materials of the pressing machine are all the durable materials, to minimize maintenance of the machine. The upper mold is integrated with the "Sliding beam", which doubles the strength, stability and precision.
High automation.
Plastic pallet making machine can achieve all the process automatically controlled by PLC system.
Better moulds design.
The final pallet is one-piece design with round edges without burrs. They can stack easily and space saving 60% than the traditional plastic pallet.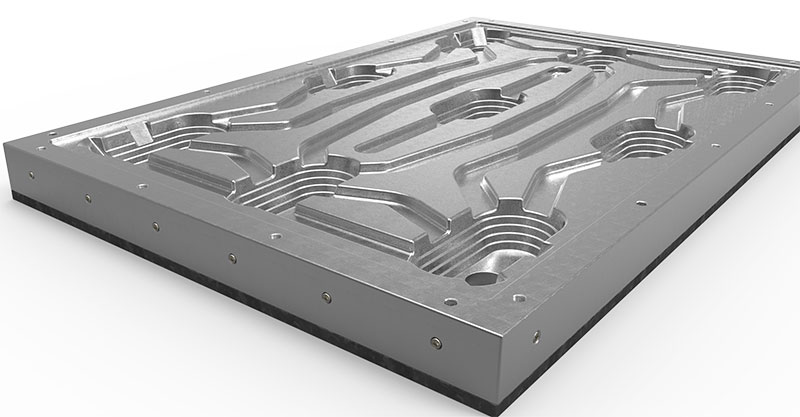 Mould of plastic pallet making machine
1. Engraved by a whole high strength steel plate with strong resistance to high temperature and high pressure.
2. Drilled inside the steel plate, the heat conduction oil way is well-distributed conduction performance, which completely solved the problem of welded oil circuit spilling.
3. All oil circuits are sealed by removable plugs, easy to maintain and dredge later, which will longer the service life of the mould.
Compressed Plastic Pallet
Specification:
400 mm×600 mm, 600 mm×800 mm, 800 mm×1000 mm,
800 mm×1200 mm, 1000 mm×1200 mm, 1100 mm×1100 mm
Pallet weight varies from 10 to 22 kg.
Loading capacity: 2 ~3 tons(dynamic load) and 6 ~8 tons(static load)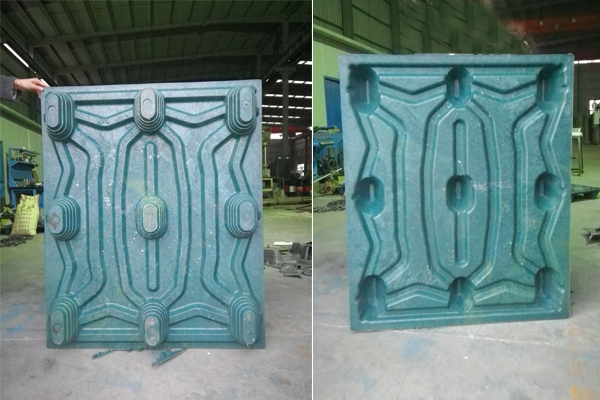 What materials can make compressed plastic pallet?
Waste plastic, plastic bottles, plastic pellet, plastic material and waste plastic pallet, and so on.
Plastic pallet making machine model parameter
Plastic pallet making machine

Model

PM 1000

PM 1200

Pressure

0--1000 tons (adjustable)

1000--1200 tons (adjustable)

Hydraulic oil cylinder quantity

4

4

Dimension

2000*1400*3500 mm

2000*1400*3500 mm

Shaping cycle

450 seconds

450 seconds

Pressure increasing time

350 seconds

350 seconds

Capacity

500 pieces/24 hours

720 pieces/24 hours

Power

18.5 kW

18.5 kW

Weight

22 tons

22 tons
If you are interested in our plastic pallet machine, or you want build a plastic pallet production line, . Waiting for your email!